Visuel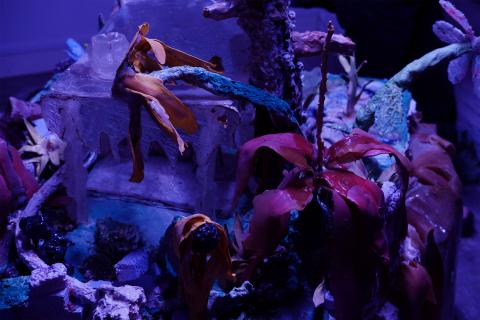 Share
Contenu
We have seen the collapse of the Alps and other manifestations - the accelerated climate change, the tipping points already crossed, the territories overturned. 
But we have also encountered large amounts of energy and possibilities, as much as joy, all encapsulated in bodies of all sizes and nature.
That is why on the first floor of the macLYON we will see artworks that seek to raise up ruins, art that wants to bind and tie, to repair what can be repaired, to cross different living beings: telling new stories, braiding new strings, inventing other perspectives.
add to calendar
Tarif
8€ / 4€ / Free for under 18
Informations horaires
Wednesday to Sunday, 11am -  6pm
Lieu
Musée d'art contemporain de Lyon
Go there
More information
Texte En savoir plus : Gauche
Effondrement des Alpes is a research platform supported by the ESAAA (Experimental School of Art Annecy Alps) and the CPG (Centre de la Photographie Genève) which, since 2018, brings together artists, scientists and others concerned by climate change in the Alps. 
Texte En savoir plus : Droite
The Alps are a "hot spot": the snow is disappearing, the mountains are turning green and the collapses of the high cliffs are multiplying, the deep ice cement that ensured their solidity is melting almost as fast as the ice visible from the glaciers.
It is a question of starting from concrete and localised situations, describing cases, pointing out places, forms and practices, and trying to find in these situations the possibilities of living in our overheated world.