Visuel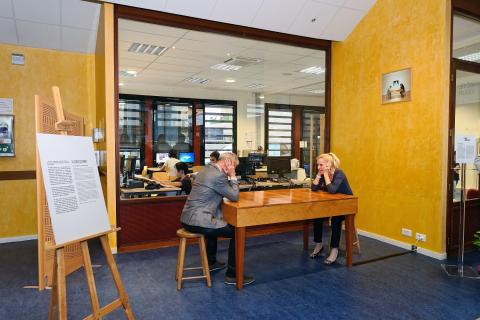 Share
Contenu
Dans les années 1960, avec John Cage et le rock, la salle de concert disparaît et la musique se transforme en « son ». Une histoire racontée à travers une œuvre de la collection : The Handphone Table de Laurie Anderson.
Plasticienne et musicienne, Laurie Anderson combine, tour à tour ou simultanément, l'art de la scène, le langage, l'électronique et l'objet. Le violon est son instrument de prédilection, tout comme le générateur d'hologrammes, le synthétiseur vocal ou les machines rudimentaires qu'elle bricole elle-même.
Elle crée Handphone Table en 1978. « L'idée m'en est venue quand j'étais en train d'écrire une histoire à l'aide d'une machine à écrire électrique : ça n'avançait pas, ça me donnait le cafard, je me suis pris la tête dans les mains – et c'est là que je l'ai entendu, cette sorte de bourdonnement très fort émis par la machine, amplifié par la table et qui montait par mes bras jusque dans ma tête. Un son très clair et très fort. […] Si l'on met ses coudes au bon endroit, le son monte le long des os des bras, il suffit alors de placer les mains sur ses oreilles en guise de casque. » À partir de cette intuition, elle écrit une composition pour basse, violon et piano à laquelle elle ajoute des textes de G. Herbert, poète anglais du XIIe siècle.
On entend « Now I'm in You Without a Body Move. » sur un côté et sur l'autre « And I Remember You in my Bones. ». C'est en se bouchant les oreilles qu'on peut écouter ce qui se passe et découvrir le monde.
add to calendar
Informations horaires
Lundi & vendredi, de 15h30 à 19h
Mardi de 15h30 à 20h
Mercredi de 10h à 19h
Samedi de 10h à 17h
Lieu
Espace Culturel Pierre Poivre
S'y rendre