The building
The macLYON is situated 81 quai Charles de Gaulle, 69006 Lyon, France.
6,000m2 museum is spread over several floors and presents modular spaces that are perfectly adapted to the needs of the different artistic projects welcomed by the museum, as well as new forms of contemporary expression. The macLYON focuses on current national and international art, in all its forms, offering exhibitions and a wide programme of transdisciplinary events.
The history of the museum
Established in 1984 in a wing of the Palais Saint-Pierre, in 1995 the Musée d'art contemporain de Lyon moved to the site of the Cité internationale, a vast architectural ensemble spread over one kilometre on the edges of the Parc de la Tête d'Or, in Lyon's 6th arrondissement. The work of architect Renzo Piano, responsible for the entire site, the museum conserves the facade of the atrium of the former Palais de la Foire, overlooking the park. The Palais was designed by Charles Meysson in the 1920s.. See the key dates
Temporary exhibitions
The macLYON has chosen to regularly renew its exhibitions. This is why you will only see temporary exhibitions specially produced for its spaces. They can be collective exhibitions or solo shows, showing works from the collection or loans ... And it is also for this reason that the museum is closed for mounting between two exhibition periods.
Check our program before your visit!
Artworks around the museum 
The artworks around the museum are visible at any time.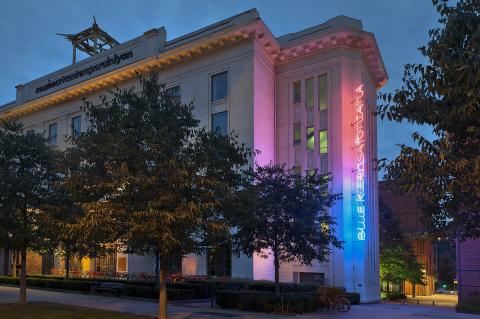 The architect: Renzo Piano
Renzo Piano was born in Genoa in 1937 into a family of builders. While studying at Politecnico of Milan University, he worked in the office of Franco Albini.
In 1971, he set up the "Piano & Rogers" office in London together with Richard Rogers, with whom he won the competition for the Centre Pompidou. He subsequently moved to Paris. In 1981, the "Renzo Piano Building Workshop" was established, with 150 staff and offices in Paris, Genoa, and New York.
Museum design
The interior of the museum is fully modifiable in order to meet the multiple requirements of the artists displayed therein, as well as the diversity of exhibition layouts designed by the curators.

This modular interior is extremely discreet. For example, walls can be erected around the artworks and the exhibition route and layout can be varied with each new exhibition. Alternatively, the three floors of exhibition space (2,800 m2 in total) can be completely devoid of walls, allowing spaces of 800 or 1,000 m2. Lighting can also be modified to suit every event and exhibition, ranging from natural to artificial to zenith lighting (on the 3rd floor).
You'll also be interested in...