Share
Contenu
Currently presented at the Astrup Fearnley Museet in Oslo (Norway), Imagine Brazil is a snapshot of Brazilian contemporary art. The exhibition presents fourteen young and most creative artists of the emerging scene of Brazil and who, for most of them, already have an international career. In their turn, each of them has been invited to select a Brazilian artist, considered to him as a reference in Brazilian contemporary art.
Curators
Gunnar B. Kvaran, Hans-Ulrich Obrist, Thierry Raspail
Artists
Jonathas de Andrade, Arrigo Barnabé, J. Borges, Sofia Borges, Rodrigo Cass, Adriano Costa, Deyson Gilbert, Fernanda Gomes, Marcellvs L., Milton Machado, Montez Magno, Cinthia Marcelle, Maria Martins, Thiago Martins de Melo, Rodrigo Matheus, Cildo Meireles, Pedro Moraleida, Paulo Nazareth, Rivane Neuenschwander, Paulo Nimer Pjota, Sara Ramo, Mayana Redin, Gustavo Speridião, Tunga, Adriana Varejão, Caetano Veloso, Carlos Zilio
More information
Texte En savoir plus : Gauche
From 5 June to 17 August, 2014, the Musée d'art contemporain de Lyon hosts the exhibition Imagine Brazil. Designed in collaboration with London and Oslo, this exhibition brings together 14 young artists who are amongst the most creative of Brazil's emerging contemporary art scene. Each of these 14 young artists was asked, in turn, to invite an established artist whom they considered to be a reference or someone whose work was similar to their own and to whom they wished to pay tribute. Therefore, Imagine Brazil exhibits the work of 27 artists in total (one 'established' artist was selected twice).
Texte En savoir plus : Droite
In Imagine Brazil there is also 'an exhibition within an exhibition' devoted to artists' books, as these play an important and unique role in Brazilian art today. This part of the exhibition was entrusted to Jacopo Crivelli Visconti and Ana Luiza Fonseca.
After Oslo and Lyon, the exhibition Imagine Brazil will travel to Brazil, Argentina and Canada
Informations supplémentaire programmation MAC

Virtual tour
Catalogs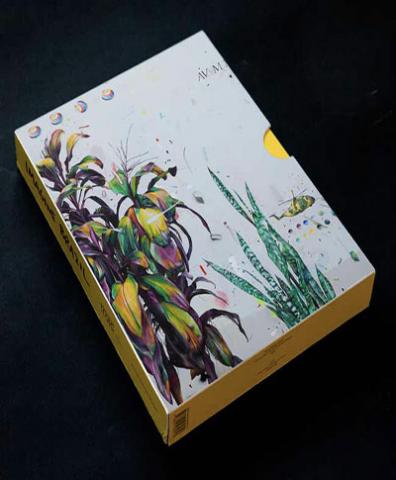 Date de création: 08/27/2020
Date de modification: 08/27/2020
The Imagine Brazil catalogue boasts texts by some 36 authors and art critics on the subject of the artists involved in the exhibition, as well as on the different Brazilian art scenes that exist today. It features an illustrated volume in English (255 pages) and a booklet of the texts translated into French (64 pages).