back to exhibitions
manifesto of fragility: Beirut and The Golden Sixties
16th Biennale de Lyon - Exhibition
Visuel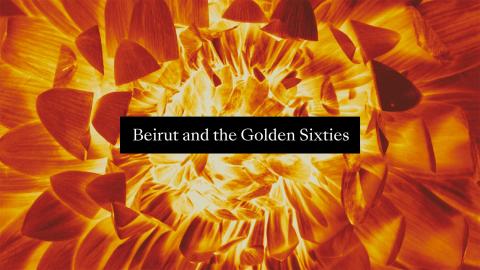 Share
Contenu
The Paris of the Middle East. The Switzerland of the Arab World. A place where you can ski in the morning and go sailing in the afternoon. Perhaps more than any other city, Beirut has had its fair share of clichés and expectations: a city whose insatiable appetite for life, is matched only by the burden of its irreconcilable ambitions.
With 230 artworks by 34 artists, and more than 300 archival documents presented in five thematic sections, Beirut and the Golden Sixties introduces the breadth of artistic practices and political projects that thrived in Beirut from the 1950s to 1970s. Emerging from French mandatory rule (1920 – 1943), Beirut was ready for it's close up. An influx of intellectuals and cultural practitioners from the Middle East and Arabic-speaking North Africa flowed into Beirut over the course of three decades marked by revolutions, coups and wars across the regions. Foreign capital flowed into the city; new commercial galleries, independent art spaces and museums flourished. Beirut was bursting at the seams, not only with people, but also with ideas. Yet beneath the surface of a golden age of prosperity, antagonisms festered before eventually exploding in a 15-year civil war.
Beirut and the Golden Sixties presents a crucial moment in modern history from the vantage point of an ongoing crisis, highlighting the entanglement of past and contemporary struggles. Beirut is a city that is, in and of itself, a manifesto of fragility. It continues to evoke both vulnerability and determination – or at least traces of it – and conjure forms of resistance, called forth by the urgency of the moment and the desire to not be forgotten.
Beirut and the Golden Sixties: A Manifesto of Fragility is curated by Sam Bardaouil and Till Fellrath. The exhibition is organized in cooperation with the Gropius Bau, Berlin.
The artists: 
Shafic Abboud, Etel Adnan, Farid Aouad, Dia Al-Azzawi, Alfred Basbous, Joseph Basbous, Michel Basbous, Assadour Bezdikian, Huguette Caland, Rafic Charaf, Saloua Raouda Choucair, Georges Doche, Simone Fattal, Laure Ghorayeb, Paul Guiragossian, Farid Haddad, John Hadidian, Jumana Bayazid El-Husseini, Dorothy Salhab Kazemi, Helen El-Khal, Simone Baltaxé Martayan, Jamil Molaeb,
Fateh Al-Moudarres, Nicolas Moufarrege, Mehdi Moutashar, Aref El Rayess, Adel Al-Saghir, Mahmoud Said, Nadia Saikali, Hashim Samarchi, Mona Saudi, Juliana Seraphim, Cici Sursock, Khalil Zgaib
Catalogue:
Edited by Sam Bardaouil, Till Fellrath / Silvana Editoriale
22 x 26 cm
272 pages
280 illustrations
38 €
add to calendar
Tarif
1 ticket = 6 exhibition's venues
The entry ticket gives one-time access to all the exhibition venues included in the Biennale de Lyon. It is valid for the duration of the exhibition, from Sept. 14 to Dec. 31. 2022.
Admission
Full: 20€ on site, 18€ online
Concessions: 12€ on site, 10€ online
Free for under 15. See details of reductions and free admission here. Possibility to take a permanent pass.

On site, the ticket office closes one hour before the closing of the exhibitions.
More informations
Informations horaires
In macLYON :
Tuesday - Friday: 11am - 6pm 
Saturday - Sunday:  11am - 7pm
Close at 5pm on 24th & 31st December
Closed on 25 December
Lieu
In Musée d'art contemporain de Lyon
1srt and 2d floor