Visuel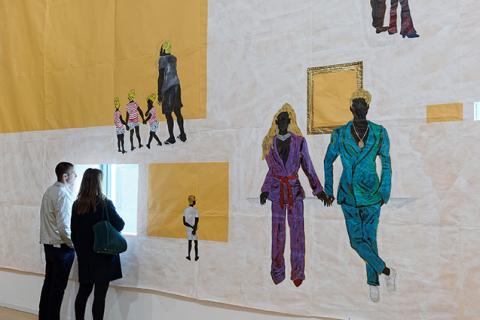 Share
Contenu
In 2019, the Musée d'art contemporain de Lyon offers Maxwell Alexandre, a Young Brazilian artist, his first monographic exhibition outside Brazil. For this occasion, the museum welcomes the artist for a month-long residency in Lyon.
Born in Rio de Janeiro in 1990, Maxwell Alexandre graduated in design from the PUC-RJ (Pontifical Catholic University of Rio de Janeiro) in 2016. His early rollerblading career profoundly influenced his perception of urban space. Zipping through the city, he traversed a dizzying flow of images and in his work he now attempts to capture some of that energy and transfer it to his art.
Inspired by mural painting and rap music, his works represent the collective and refer to numerous socio-political and cultural issues, particularly the place of minorities.
Using different supports such as brown paper, doors and iron window frames, he draws situations from daily life in which groups of anonymous individuals with roughly drawn faces (women, children in uniform, municipal workers, policemen, etc.) survive on the streets and alleyways of Rocinha, the biggest favela in Rio de Janeiro, where he lives and works.
By creating monumental and popular works, through his fluid and precise painting, the artist celebrates the Afro-Brazilian body in an adopted position of power.
Maxwell Alexandre takes his inspiration from life in Rocinha to create an engaged and complex narrative work in a Brazil fraught with tension. He can also be said to construct a unique universe composed of works that are at once powerful and fragile.
 
The artist
Nom de l'artiste

Maxwell Alexandre
Visuel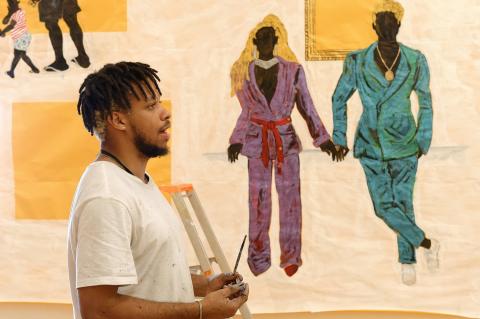 Paragraphe
Maxwell Alexandre (b. 1990) grew up in Rocinha, one of the largest favelas in Rio de Janeiro, where he lives and works today.
From 2004 to 2014, he was a professional roller skater, and this had a profound influence on his perception of urban space. He came late to art, declaring that he "got into art the way one might get into religion."
More information
Texte En savoir plus : Gauche
Pardo é Papel, the title of the exhibition, which can be translated as "brown is the paper", plays on the two senses of the word pardo. It is used to describe both the mixed-race population in Brazil and an orange brown wrapping paper which Maxwell Alexandre uses as a support for his paintings.
His large paintings populated by people with bleached hair mainly evoke the lives of the inhabitants of Rocinha, their day-to-day lives, their difficulties and their pride. Among the many figures represented, one recognizes key figures in Afrodescendant history, including militant political figures (Marielle Franco, Erica Malunguinho), celebrities from the world of art (Malick Sidibé, Jean-Michel Basquiat), and up and coming young artists like Lyz Parayzo.
Biographical elements are combined with icons from popular culture like the black Power Ranger in Megazord, advertising figurines (e.g. Danonino and Toddynho) as well as references to European classical art such as Mantegna's Camera degli Sposi ("Bridal Chamber").
Texte En savoir plus : Droite
The titles of his works are taken from rap songs, notably from BK', Baco Exú do Blues, Djonga and Akira Presidente. He listens to these songs when he paints and his interpretation of them is presented here. A lua quer ser preta, se pinta no eclipse (The moon wants to be black, it was painted in an eclipse) or Eramos as cinzas e agora somos o fogo (We used to be ashes and now we are fire)–these titles have both a poetic
and a political dimension.
The background to this world, which is packed with meanings, is a searing critique of everyday violence and extreme poverty, pervasive racism and a rejection or even hostility to politics.
During a residency at macLYON, Maxwell Alexandre has created new paintings for the Lyon exhibition–a continuation of the Pardo é Papel series.
Informations supplémentaire programmation MAC

360° views of the exhibition