back to exhibitions
15th Lyon Biennale 2019
Where water comes together with other water - Exhibition
Visuel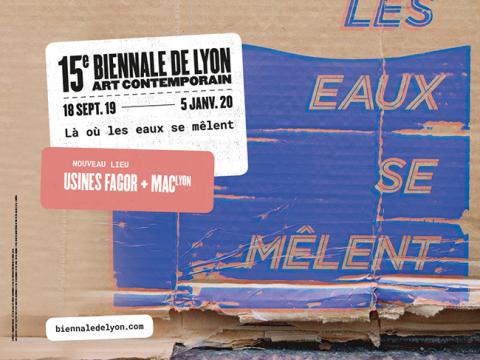 Share
Contenu
A high point in the international art calendar, the Lyon Contemporary Art Biennale is gaining fresh impetus in 2019.
Thanks to the exceptional Fagor Factory site being made available – a complex of more than 29,000 sqm in central Lyon – the 15th edition is unprecedented in scale. This huge disused facility, together with all the Contemporary Art Museum of Lyon space and interventions throughout greater Lyon and in the Auvergne-Rhône-Alpes region, make up an outsized field of experimentation that is ripe for the artists' taking and giving the event a new dimension.
The Lyon Contemporary Art Biennale has entrusted the curatorship of its international exhibition to the Palais de Tokyo and its team of curators. Isabelle Bertolotti, director of the macLYON, is the new artistic director of the Lyon Contemporary Art Biennale.

Where water comes together with other water (Là où les eaux se mêlent)
This 15th edition of the Lyon Contemporary Art Biennale is devised as an ecosystem at the intersection of biological, economic and cosmogonic landscapes. It bears witness to the shifting relationships between human beings, other living species, the mineral kingdom, technological artefacts and the stories that unite them.
Echoing Lyon's geography, the title of the 15th Lyon Contemporary Art Biennale is Where Water Comes Together with Other Water, taken from a Raymond Carver poem.
Around fifty artists of all generations and many nationalities, with gender parity, have been invited to make site-specific works.
At macLYON: Nina Chanel Abney, Gaëlle Choisne, Daniel Dewar & Grégory Gicquel, Jenny Feal, Renée Levi, Aguirre Schwarz.

› Whole information on the 15th Lyon Biennale website.