Visuel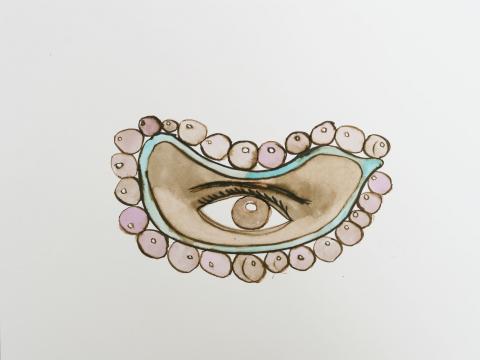 Share
Contenu
Christine Rebet is fascinated by illusion and deception. She prefers drawing because it is manual and spontaneous, and she produces hundreds and thousands of drawings in ink, which she assembles frame by frame using traditional, early animation techniques. Repeated drawing, which is the origin of moving pictures, creates what she calls her "paper cinema."  Christine Rebet re-interprets personal and collective traumas and mixes history and fiction in fantasy worlds. The subjects of her films are universal and evoke not only political reality, but also the destruction of the world, the oppression of human beings, and the idea of metamorphosis. She transcends imagery with a disturbing poetry, using manipulative techniques to explore the audience's subconscious mind. She creates an imaginative fantasy through which to escape from the world. In her exhibition Escapologie [Escapology], Christine Rebet presents six animated films, including one specifically made for this exhibition. This new film is inspired by the traditional songs of pearl fishermen and sailors in the Persian Gulf. For this exhibition, the strange world of the six films is complemented by paintings and murals as well as drawings.
Curator: Marilou Laneuville
Watch a film by Christine Rebet:
Watch the exhibitions' video:
The artist
Nom de l'artiste

Christine Rebet
Visuel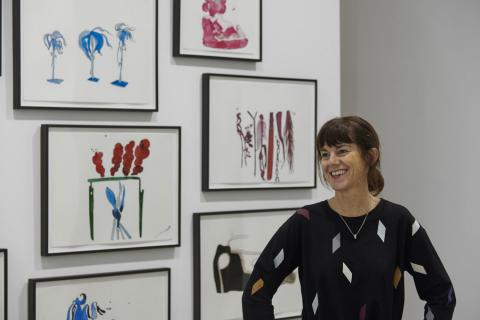 Paragraphe
Born 1971 in Lyon (France), Christine Rebet lives and works in Paris and New York. After studying at the Accademia di Belle Arti, Venice, the artist took a bachelor's degree at St. Martin's School of Art and Design, London and a master's degree at Columbia University, New York.
More information
Texte En savoir plus : Gauche
Christine Rebet began working in the theatre sector, collaborating with choreographers and directors. Since 2002, animation has been her main medium. That same year, she was awarded the Nipkow Programm grant in Berlin, a scholarship enabling filmmakers to work on a personal project. During her stay, she worked with a studio from the former East Germany, specializing in traditional animation, and made a film using a pre-digital technique. This first film, The Soul Hunter, was presented in competition at the 2003 Berlinale. The artist has long remained loyal to this medium for its expressive potential, especially since animation has its roots in social critique.

"I chose animation as my primary medium, first of all for its repetitive aspect: one must create hundreds, thousands of drawings to make the animation move. I enjoy this repetitive dimension. It is a way of fully devoting myself to a character. Once I choose my characters, and how to develop their story, it is as if I have entered into an agreement with them. I want to stay true to them, just as I stay true to the old technique of animation. Ink drawing is my handwriting. What I like about drawing is its manual and straightforward aspect."
"When it comes to filming, the process is again quite painstaking. I now use digital cameras—much cheaper and much more flexible than film—for a very similar end result visually-speaking. However, the production process is still very long, and I like that timeline. For me, the most important thing is the long moment in the darkroom, that photographic moment, take by take. By carefully positioning the drawings, one by one, under the overhanging lens, there is something akin to respect for the image and its materiality. In the same way, I also want to record the sound of the studio, the noises that bring the darkroom to life, so as to integrate them into the film's sound field. All of this contributes to its poetry. Gradually, when put end to end, the images become cinema, a paper cinema."
Texte En savoir plus : Droite
Informations supplémentaire programmation MAC

360° view of the exhibition
Documents