Visuel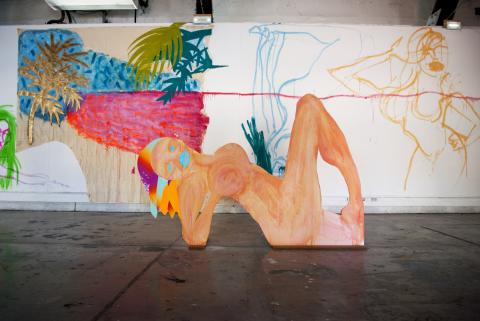 Share
Contenu
The format of the exhibition Crossover is designed to create a dialogue between works from the macLYON collection and those of an emerging artist. This invitation to Hélène Hulak (b.1990 in Paris), who graduated from the École nationale supérieure des beaux-arts de Lyon in 2018, juxtaposes works by Mel Ramos (1935-2018) with hers, as a basis for exploring and comparing two approaches to the representation of the body and the construction of the gaze.
'Peekaboo' was an old Scottish dialect word for the game of hide-and-seek; 'peek' has the same meaning as 'peep'. Mel Ramos's 2015 portfolio Vintage Peek-A-Boo, which entered the macLYON collection in 2016, is a series of prints depicting naked women, named after the colour of their hair, spied ('peeped at') through a keyhole. The artist seems to be interrogating the ambiguity of representation, located, as it is, somewhere between the self-indulgence of fantasy and a critique of the intrusive gaze. He has used mythical figures such as Marilyn Monroe to stage this projection.
The way the female body is viewed, particularly in the media, is systematically deconstructed in Hélène Hulak's work. She starts from banal imagery that promotes the erotic objectification of the body and the imposition of a way of seeing distorted by artificial, limiting, and caricatural canons. She sets about reinventing this image in order to create a "counter-representation."
Identification and détournement as practised by Hélène Hulak are part of a strategy of deconstructing and critiquing the tools of domination wielded in our patriarchal societies. In order to liberate the female body from these artificial and oppressive canons, she uses the figure of the witch, caricature and distortion of these iconic images. She expresses these themes through a violent use of colour and artistic techniques that are abusively called "feminine", such as sewing or knitting, which proliferate like spider webs. Stripped of the outdated codes of the representation of desire, the viewer's gaze is confronted by the power of the liberated and reappropriated body.
Though the two artists' approaches complement and contradict each other, the manner in which the philosophical and societal implications evolve produces a stimulating confrontation. This, however, in no way relieves the spectator of their duty to interpret; as Marcel Duchamp said: "It is the viewer who makes the work of art."
Curator: Matthieu Lelièvre
Informations supplémentaire programmation MAC

360° view of the exhibition