Visuel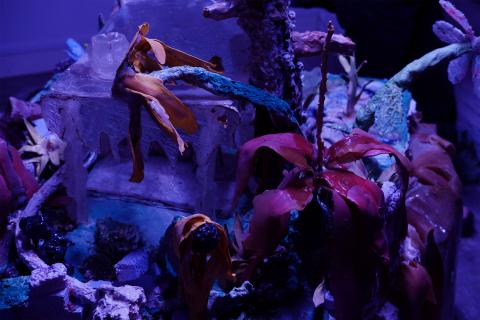 Share
Contenu
IRL é RL is a project by the research platform Effondrement des Alpes, invited to the macLYON from May to July 2021. It combines an exhibition, a programme of live events, artist residencies, food, a dormitory, workshops, and discussion and meeting areas.
IRL é RL mixes the real and the unreal, events and objects. Over the course of several weeks, it provides an opportunity to meet "In Real Life" (IRL) in Lyon, or/and online at irlerl.art, thereby warding off the trajectories by which we, terrestrial beings, have been de-terrestrialised (that is to say separated from the earth, stuck behind our screens, lost in our department stores and cities, etc.).
Wether the museum is still closed or is allowed to open to the public, this project is conceived as a growth of art broadcasted to the audience. It offers a series of dense and strange experiences, and the entire programme has something to suit all tastes: opera, films, a fair, lectures, sound poetry and so on.
IRL é RL can be seen as a media which convey what is invented during its process.
The collective research platform Effondrement des Alpes is developed by the ESAAA—École Supérieure d'Art Annecy Alpes with the Centre de la Photographie Genève and various other partners.
This platform monitors the morphology of the landscape, describes what is collapsing (cliffs, insect populations, time spent…) and experiments with forms that gradually contribute to the emergence of new ways of inhabiting the world.
Effondrement des Alpes in macLYON:
Mabe Bethônico, Laurent Faulon, Pierre Gaignard, Anne-Sarah Huet, Quentin Lazzareschi, Louise Mervelet, Stéphane Sauzedde, Mathilde Sauzet Mattei, Vikhi Vahavek
With: Sheila Atala, Jérome Baku, Jacob Bertilsson, Sylvie Boisseau & Frank Westermeyer, Etienne Caire, Stephanie Cherpin, cONcErn, Theodora Domenech, Victorine Grataloup, Hélène Gugenheim, Cecile Guichard, Paul Guilibert, Lucile Haute, Anne Kawala, Etienne Kurzaj & Tommy Poire, Joyce Lainé, Sandra Lorenzi, Stephen Loye, Mass Bass,Salma Mochtari, Cynthia Monthier, Nathalie Muchamad, May Murad,Toma Muteba Luntumbue, Carole Nosella, Jérémie Nuel, Blaise Parmentier, Stanislas Paruzel, Akim Pasquet, Benoit Pieron, Jacopo Rasmi, Andrea Reille, Remi Riault, Julien Ribeiro, Theo Robine Langlois, Nesrine Salem, Solo Chaud, Loïc Verdillon, Aster Verrier, Le Wonder, David Zerbib, Janna Zhiri...
Students from ESAAA : Marie Boudet, Camille Doucet, Marguerite de Poret, Elodie Duwyn, Manon Genet, Zazie Grasset, Luana Leite Castro, Pauline Maignan, Louise Singla, Matteo Tassan-Din, Lyse Vuillemin, Nathan Willerval and Margot Wolff
add to calendar
Tarif
8€ / 4€ / Free for under18
Informations horaires
Wednesday to Sunday, 11am - 6pm
Lieu
Musée d'art contemporain de Lyon
Go there
The artists
Nom de l'artiste

Jacob Bertilsson

Nom de l'artiste

Mabe Bethônico

Nom de l'artiste

Laurent Faulon

Nom de l'artiste

Pierre Gaignard

Nom de l'artiste

Anne-Sarah Huet

Nom de l'artiste

Quentin Lazzareschi

Nom de l'artiste

Sandra Lorenzi

Nom de l'artiste

Louise Mervelet

Nom de l'artiste

Toma Muteba Luntumbue

Nom de l'artiste

Blaise Parmentier

Nom de l'artiste

Stanislas Paruzel

Nom de l'artiste

Andrea Reille

Nom de l'artiste

Rémi Riault

Nom de l'artiste

Mathilde Sauzet Mattei

Nom de l'artiste

Vikhi Vahavek
More information
Texte En savoir plus : Gauche
Since 2018, Effondrement des Alpes has brought together artists, designers, philosophers, poets, scientists, activists, students and professionals.
This group consists of a "crowd of concerned individuals", all of them facing, beyond their own personal situations, the rapid transformation of landscapes, lifestyles and territories, impacted by global warming and its corollaries.
Effondrement des Alpes was born from the devastating observation of the irreversible melting of the permafrost in the Alps and the resulting climate changes. As a dramatic consequence of this phenomenon, rock collapses, which were once merely the backdrop of catastrophic narratives, are now the object of a transversal study, undertaken by creators and researchers.
Texte En savoir plus : Droite
If the Alps, a millennial marker of our geography, crumble and erode, how should we reconsider our natural heritage, which serves as a kind of anchor, in an evolving and impermanent world? Effondrement des Alpes explores new ways of thinking and living in a changing territory, through artistic production and research.