Visuel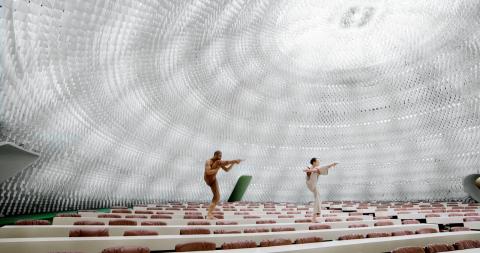 Share
Contenu
For Jasmina Cibic, every film project sees this artist researcher delving into the archives, the accounts recorded there as well as the silences, in order to reveal the attitudes of all forms of power – whether state, government, party political or diplomatic – towards the
arts.
For the exhibition Stagecraft, Jasmina Cibic has brought together several years of research into political gifting of culture, which she unravels as the centrefold of the exhibition at macLYON in her film The Gift.
This film features several emblematic buildings, including the French Communist Party Headquarters in Paris, the Palace of Nations in Geneva, the Palace of Culture and Science in Warsaw and Mount Buzludzha in Bulgaria, all of which, in their collections and architecture, constitute gifts in their own right and have a profoundly established artistic vocabulary entirely at the service of political dramaturgy.
This project by Jasmina Cibic is part of her research into the notion of soft power, which was the basis of her exhibition for the Slovenian pavilion at the 2013 Venice Biennale.
Curator: Matthieu Lelièvre
add to calendar
Tarif
(Dates to be confirmed)
8€ / 4€ / free under 18
Informations horaires
From Wednesday to Sunday - 11am - 6pm
Go There
The artist
Nom de l'artiste

Jasmina Cibic
Visuel
Paragraphe
Born 1979 in Ljubljana (Slovenia), Jasmina Cibic lives and works in London. She is a graduate of the Accademia di Belle Arti, Venice, and Goldsmiths' College, London. 
More information
Texte En savoir plus : Gauche
Co-commissioned and co-produced by macLYON; FLAMIN − Film London Artists' Moving Image Network with funding from Arts Council England and steirischer herbst '19; co-producers Waddington Studios London. Supported by Muzeum Sztuki in Łódź; Cooper Gallery DJCAD, University of Dundee; Northern Film School; UGM Maribor Art Gallery; United Nations, Geneva; Espace Niemeyer, Paris and Palace of Youth, Warsaw.