Visuel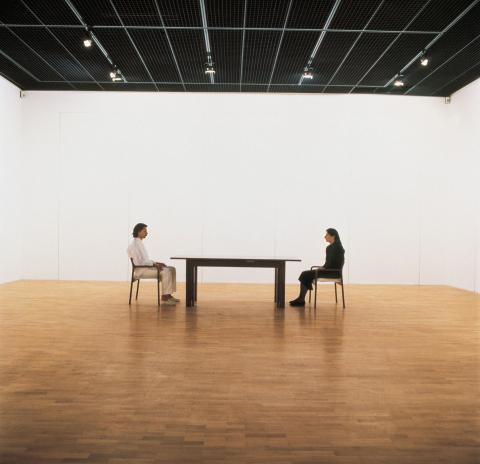 Share
Contenu
In 1986, the Musée d'art contemporain de Lyon hosted an exhibition by performance-art pioneers Marina Abramović and Frank Uwe Laysiepen, a.k.a. Ulay. Abramović was born in Yugoslavia, and Ulay in Germany. They met in 1975 in Amsterdam and then lived together while developing a radical body of work in a fusion of their individual artistic practices.
It was an opportunity for the two artists to present and bring to a close the cycle of performances that brought them international recognition, Nightsea Crossing. The work consisted of 22 performances which they took all over the world (including Sydney, Ushimado, Chicago, and Kassel), some of them lasting several days. They sat face to face in the presence of an audience, immobile, imperturbable and silent, in a meditative state of extreme attention.
The work having taken on its final form with the Lyon performance, it was acquired by the museum: photographs and objects preserve the memory of the (sometimes extreme) moments they record.
A few years later, in 1995, when the couple had separated and their artistic partnership was over, they decided to go back to the recordings of their various joint performances and to condense the material into an archive of essential moments. In 1999, the Musée d'art contemporain de Lyon (macLYON) and the Van Abbemuseum in Eindhoven co-produced this project and acquired all the resulting "video-performances". The macLYON consequently owns recordings of all the artists' joint work. A selection from that oeuvre is the object of this exhibition.
Watch the exhibitions video:
More information
Texte En savoir plus : Gauche
Ulay, short for Frank Uwe Laysiepen (born 1943 in Solingen, died 2020 in Ljubljana), trained as a photographer. At first he worked with Polaroid cameras and made self-portraits in which he explored gender differences using stage make-up. In 1976, he stole a painting reputed to be Adolf Hitler's favourite, The Poor Poet by Carl Spitzweg, from the National Neuegalerie in Berlin and left it with a Turkish family in the suburbs.
Marina Abramović captured the action on film.
Texte En savoir plus : Droite
Marina Abramović, born 1946 in Belgrade, was a war baby. In her early performances, she often put her life in danger, as in Rhythm 5, 1974, a work in which she stretched out between the points of a burning star, eventually passing out from lack of oxygen. They met in a Dutch television studio in 1975 and worked together from 1976 to 1988, when they separated.