Visuel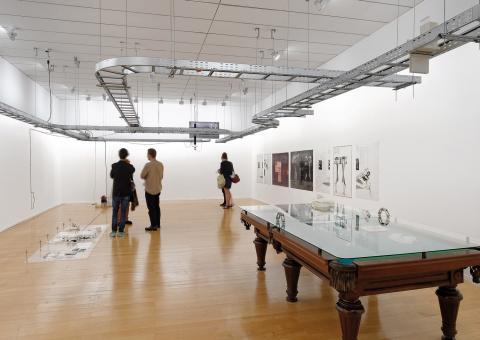 Share
Contenu
For his first solo exhibition in France, Ben Schumacher, born in 1985 in Kitchener, Canada and who lives and works in New York will pursue his collaborative work with architects. In the frame of this exhibition in Lyon he has been working in New York for the period of one month applying to an open call architecture competition with a young architect (so this time not with a big firm).
Curator: Caroline Soyez-Petithomme, director of the gallery La Salle de bains
This exhibition will involve designing a structure and producing drawings, 3D models, physical models and renderings of the project. The source of interest for the design building will be networks, analytics, statistics and causality as represented aesthetically in the contemporary fields of mathematics, biology and architecture. This results from those fields of research and execution and from the manner they utilize systems theory, cybernetics and networks discourse as a way to deal with and explain real events as they are happening and how they might become useful to either produce something or to become predictive of future events.
The key figure of the billiard table will form the foundation for this metaphor. Schumacher started to think about the billiard table as a building - maybe for example the possibility of the top being a park or green space -a natural space versus chaos on the top with the movement of the balls with the the rational grid of city below it. And then the interior of the table where the balls go after they have been sunk - this becomes the origin, the organs of the structure alluding to the infrastructure that upholds the city or the «game».
The artist
Nom de l'artiste

Ben Schumacher
Visuel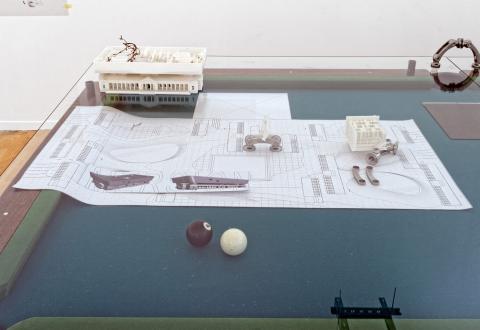 Paragraphe
Ben Schumacher was born in 1985 in Kitchener (Canada) where he studied architecture at Waterloo University. After working for several architectural agencies, he studied Fine Arts in New York (where he has since been living and working). From his brief experience as an architect he has retained a great interest in diagrams, notes and drawings, as well as for maquettes, samples of materials and the many different communications media, which are more or less developed in terms of graphics, and techniques of printing and reproduction.
Informations supplémentaire programmation MAC

360° views of the exhibition