Visuel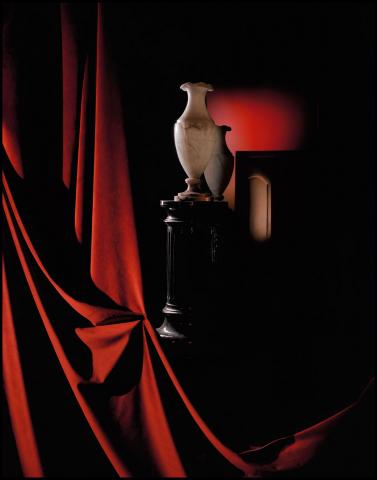 Contenu
Delphine Balley has spent more than twenty years developing her expertise in photography and video. The exhibition Figures de cire [Wax Figures] is conceived as a journey into time and the vernacular. It is a narrative ensemble consisting of three screenings, Le Pays d'en haut  [The Land Above], Charivari [Hullabaloo] and Le Temps de l'oiseau [The Time of the Bird], as well as a series of photographic prints and a sculpture. By adopting the hermetic atmosphere of family portraits and the tradition of genre painting, Delphine Balley creates a portrait of universal human stiffness, in keeping with the exposure time needed for a view camera. She establishes relationships between vibrancy and fixity, formlessness and stability, truth and falsehood.  Figures de cire [Wax Figures] probes the dysfunctional nature of rites and social representations and invites visitors to take their place in the procession, in a fictitious symbolic architecture and an incomplete narrative, in which marriage and funeral ceremonies merge. Delphine Balley tells a story of appearance and disappearance, the cycle of a life whose motifs and relics survive the passage of time.
Curator: Agnès Violeau
Watch our teaser:
Watch the exhibitions' video:
The artist
Nom de l'artiste

Delphine Balley
Visuel
Paragraphe
Born 1974 in Roman-sur-Isère (France), Delphine Balley lives and works in the Drôme. After a degree in art history at the University Lumière of Lyon 2, she obtained a DNSEP from the National School of Photography in Arles.
More information
Texte En savoir plus : Gauche
As an artist photographer and video maker, Delphine Balley's works involve mise-en-scène and narratives on the ancient foundations of our societies and their collective practices.
Representing the world by organising it on the basis of rites and beliefs is a way of inhabiting it, organising it and addressing the ungraspable nature of its reality.
It is these human organisational structures in particular that she observes, interrogates and develops in her artistic work. The first stage of her research focused on family stories: observing a family system, a micro-society organised like a tribe.
Her first mise-en-scènes were with her own family, then extended to the inhabitants of her village and to friends. This created a group, on the fringes of reality, and enabled her to invent its structure, along with its rituals, codes, beliefs and dysfunctions.
Staging a mise-en-scène amounts to experiencing reality by condensing it, reconstructing it and re-enacting it in a dense, suspended space-time that acquires added intensity from working with a large-format camera; this creates the ideal conditions for the experience.
Texte En savoir plus : Droite
Delphine Balley works essentially in series. It is her way of incorporating narrative, which is what principally interests her in photography.

Delphine Balley's taste for mise-en-scène naturally led her towards film-making (Le Pays d'en haut, 2013), a field that allowed her to introduce gesture and sound into her work. Her photographic tableaux evolved into the moving images which were surely already present in her imagination, needing only to be animated to provide that logical progression in her oeuvre.
"This stage is very important in the evolution of my work. The passage from a motionless, formal register to a world of movement is an invitation to the viewer to follow this transposition, to build bridges between the photographs and the film sequences."
Informations supplémentaire programmation MAC

360° view of the exhibition
Catalogs
Catalogue Delphine Balley
Date de création: 03/15/2022
Date de modification: 03/15/2022
Figures de cire
Foreword by Isabelle Bertolotti, texts by Agnès Violeau and Chantal Pontbriand, conversation between Delphine Balley and Melanie Pocock.
168 pages, exhibition's views. Bilingual FR/ENG
Co-edition macLYON & Bernard Chauveau
25€
Documents