Visuel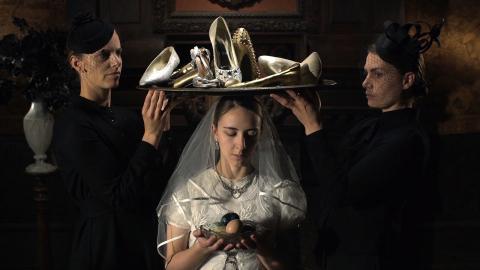 Share
Contenu
Delphine Balley has spent more than twenty years developing her expertise in photography and video. The exhibition Figures de cire [Wax Figures] is conceived as a journey into time and the vernacular. It is a narrative ensemble consisting of three screenings, Le Pays d'en haut  [The Land Above], Charivari [Hullabaloo] and Le Temps de l'oiseau [The Time of the Bird], as well as a series of photographic prints and a sculpture. By adopting the hermetic atmosphere of family portraits and the tradition of genre painting, Delphine Balley creates a portrait of universal human stiffness, in keeping with the exposure time needed for a view camera. She establishes relationships between vibrancy and fixity, formlessness and stability, truth and falsehood.  Figures de cire [Wax Figures] probes the dysfunctional nature of rites and social representations and invites visitors to take their place in the procession, in a fictitious symbolic architecture and an incomplete narrative, in which marriage and funeral ceremonies merge. Delphine Balley tells a story of appearance and disappearance, the cycle of a life whose motifs and relics survive the passage of time.
Curator: Agnès Violeau
add to calendar
Tarif
(Dates to be confirmed)
8€ / 4€ / free under 18
Informations horaires
From Wednesday to Sunday 11am - 6pm
Go There
The artist
Nom de l'artiste

Delphine Balley
Visuel
Paragraphe
Born 1974 in Roman-sur-Isère (France), Delphine Balley lives and works in the Drôme. After a degree in art history at the University Lumière of Lyon 2, she obtained a DNSEP from the National School of Photography in Arles.