back to exhibitions
Figurez-vous...
Drawings from the collection at Manifesta - Outside the walls
Visuel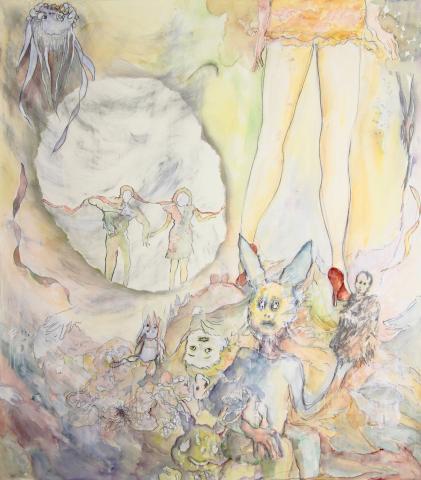 Share
Contenu
Drawing and the figure are intimately linked. It is as if the appearance of the face or the body couldn't exist without the drawing's lines or strokes. The drawing presents to the viewer's gaze both an intentional design and a figure, a work of the imagination and projection, of anticipation of a yet-to-be-realized future and a finished memory. In this way, it is uniquely attractive.
The macLYON Collection features some drawings and therefore figures, of which a selection is offered here. Beside Belle amoureuse, a work by Carmelo Zagari, a selection of resolutely contemporary drawings both in their craftsmanship as in their subject matter is exhibited at Manifesta from 26 August to 1 October. The figure appears in diverse forms, from face to animal, from doll to portrait, from comic book sketches in pencil to Naturalist watercolours. The artists brought together for the occasion come from a variety of generations and geographic origins, just like the works of the macLYON Collection.
Featuring the works of Virginia Chihota, Christine Crozat, Marina de Caro, Edi Dubien, Jackie Kayser, Christian Lhopital, Anne Petrequin, Garett Phelan, Alain Séchas, Massinissa Selmani and Carmelo Zagari. 
add to calendar
Informations horaires
Monday to Friday
10am to 1pm / 2pm to 7pm
Lieu

At Manifesta
6 rue Pizay
69001 Lyon (Metro Hôtel de Ville)
07 72 15 42 21
Go there
More information
Texte En savoir plus : Gauche
Manfesta
Manifesta is a space dedicated to contemporary art within an entrepreneurial context. Launched in September 2019, the first edition was held at a former silk workshop, a place where one could discover exhibitions and at the same time develop one's network, sparking opportunities, and leading to other events, dinners and conferences.