Visuel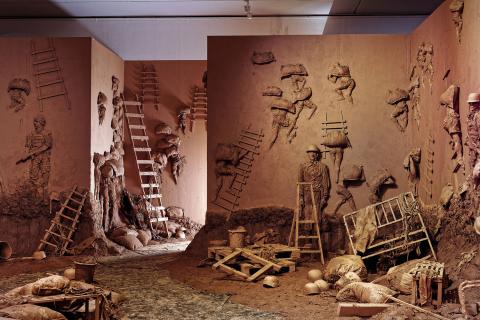 Share
Contenu
Over two floors of the museum, Adel Abdessemed presents a selection of works never before shown in France, as well as a number of new creations, including L'antidote, the work that has given its name to the exhibition.
L'antidote is the name of a bar in Lyon where the artist, then a student at the ENSBA Lyon, met Julie, his future wife, who would become a central fi gure in his artwork and his life. A souvenir of a personal experience lived by an artist who considers art to be a vital experience, necessary for one's own wellbeing and that of the world: here, the antidote could well be that of art in the face of a brutal reality.
The exhibition expresses a number of key themes in Abdessemed's artwork (selfportrait, family life, animal life, representations of violence), in an immovable grammar that makes use of a constantly evolving vocabulary. New plastic formalizations renew the figures: a sculpture in marble, an architectural model, a frieze remarkably executed on-site from clay…
The artist
Nom de l'artiste

Adel Abdessemed
Visuel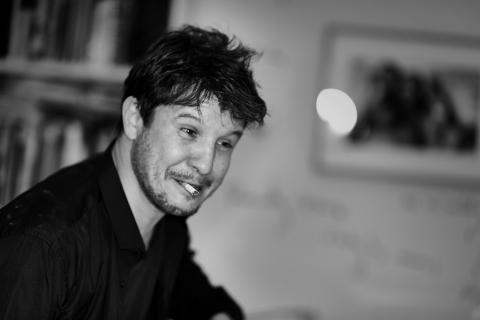 Paragraphe
Born in 1971 in Constantine (Algeria), Adel Abdessemed lives and works In Paris.
He is known for his powerful works, in tune with the constant flow of images and conflicts of today's modern world. Defying taboos, taking inspiration from literary and classical sources, Adel Abdessemed plays with his materials (barbed wire, dynamite, cannabis resin, marble, etc.) to invent, through his installations, sculptures and videos, his own narrative of violence. His hard-hitting artworks include the famous "Coup de tête" (head butt) given by Zidane to Materazzi, immortalized by the artist in a monumental bronze sculpture.
More information
Texte En savoir plus : Gauche
The sober and natural beauty of the sketch in clay of The Three Graces by Canova, a master of neoclassical art, seen by the artist at the Musée des Beaux-arts de Lyon, undoubtedly inspired Adel Abdessemed to create Is beautiful. However, the subject of the work is in fact, Angela Merkel...

Shams, a powerful composition, is a work born from suffering, according to the artist ('similar to Dante's visit to hell'). This work occupies all of the third floor of the museum. Delacroix's masterpiece, Dante and Virgil in Hell (1822), was present in the artist's mind during the process of creation of this extraordinary monumental installation, a portrait of the 'damned' of contemporary times.
Texte En savoir plus : Droite
Paul Ardenne, in an essay he wrote for the catalogue, describes Adel Abdessemed's art as a 'mental concatenation: one form evokes another which in turn evokes another, in a maieutic ballet where the keywords, more than quotations, are eruption, collage and recomposition.' His work consists of 'throwing into the pond of contemporary presentation a constellation of poetic propositions where the totality writes the self, this accumulation of history, feelings and aspirations.'
Documents