Visuel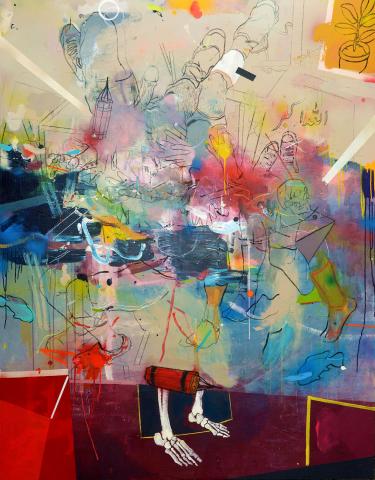 Share
Contenu
Curated by Salma Tuqan (Delfina Foundation), Matthieu Lelièvre
Thameur Mejri is a young Tunisian artist who expresses himself by means of his colourful, chaotic canvases, inhabited and constructed by fragments of narrative, bodies, objects, etc. He offers a political and critical perspective on the power dynamic that structures contemporary Tunisian society. 
Thameur Mejri will be the artist-in-residence at the macLYON for 2021, during which he will create several large-format pieces for the first time. 
Elected Best Tunisian Artist of 2019, this will be his first solo exhibition in France and in a museum setting! On the third floor of the macLYON, Salma Tuqan will put the exhibition under a subjective prism and invites the public to explore the universe of this young, emerging artist.